Transportation to NTUST
National Taiwan University of Science and Technology (NTUST) is located in Taipei downtown area and it takes about 10-minute walk from Gong-Guan MRT (MRT; mass rapid transit) and Liuzhangli MRT station. You can take bus or taxi to get from CKS International Airport to Taipei, as mentioned in the following figure. The information of CKS International Airport can be found at http://www.taoyuan-airport.com/english/Index/, where you may also find current transit routes. Bus stations are available at both Terminal I and II. You can follow the guide plate at the terminals. Adult single fares vary from NT$120 to NT$150 depending on the bus company. The journey time is about one hour in moderate traffic. Taxi is available 24 hours a day outside the Arrival Hall of both terminals. Airport taxi charges according to the meter in addition to a 50% surcharge (highway fare not included) and provides the transport to anywhere in Taiwan. A typical taxi fare to Taipei is approx. NT$1,000 ~ 1,500.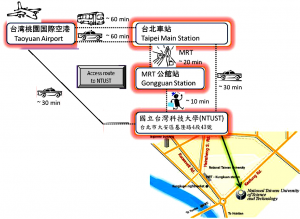 Similarly, if you come from Taipei domestic airport (Songshan airport), you can take MRT to MRT Liuzhangli station at Songshan airport MRT station after walk ~5 min from Songshan airport. At MRT Liuzhangli station, you can take taxi or bus (Bus no: 650 and 1) to reach to National Taiwan University of Science and Technology (NTUST). In both way the travel journey will not exceed more than 10 min. For more information you can follow as mentioned below.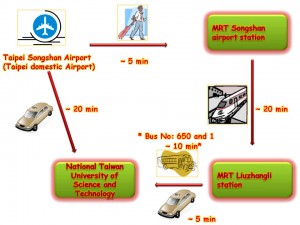 Visa information
We strongly recommend that you confirm whether you need a visa to enter Taiwan.
For a current list of countries entitled to visa-free entry, please visit http://www.boca.gov.tw
For more information on obtaining visa, please visit http://www.taiwanembassy.org
For other supporting documents according to the applicants, please visit http://www.boca.gov.tw/ct.asp?xItem=1462&ctNode=540&mp=2or please visit Taiwan representative office in your country.
*If you need a LETTER for Taiwan visa application, please notice on the registration page.